A sale leaseback transaction is an excellent way for an owner/user to free up capital invested in commercial real estate and to convert that capital to alternative uses, primarily for their business. Sale leasebacks are an attractive alternative to conventional financing.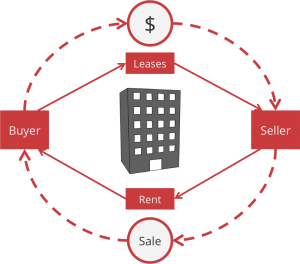 What is a sale leaseback?
A sale leaseback occurs when a business sells a building that it owns and occupies to an outside investor and simultaneously enters into a long-term lease agreement with that investor/purchaser.
What type of companies and properties are good candidates for a sale leaseback?
Single tenant properties.
Most commercial real estate property types (medical, office, retail, and industrial).
Companies with a healthy balance sheet and long, proven operating history.
Companies willing to enter into at least a ten-year lease at market rates (longer leases increase value).
Companies willing to enter into a triple net lease with the tenant responsible for all operating expenses.
What are the benefits of a sale leaseback to the user/seller?
Converts a non-liquid real estate asset to cash while the user retains control and use of the property.
Avoids the costs associated with placing conventional debt financing on the real estate.
Allows the user to effectively depreciate the land because the lease payments cover the use of the land and the building. The lease payments are tax deductible.
Improves the companies' debt to equity ratio by removing debt that was associated with the real estate from the companies' balance sheet and replacing it with cash.
What are the disadvantages of a sale leaseback to the user/seller?
The user gives up any future property value appreciation.
The user loses the ability to sell the real estate as part of a subsequent sale of the business.
The tax impact resulting from the sale may be substantial if the property has been owned for a long period of time.
If you are considering a sale leaseback please reach out to Mobiliti CRE for assistance in valuing the property, structuring the lease and marketing the property.  We can be reached at 813-300-2227 or feel free to email pam@mobiliticre.com.