Relocating your company office and prepping for an office move can be more complicated than one would initially expect. The larger the company, the more complicated the move will be.  When moving to a new commercial real estate property, a good first step is to form a relocation committee to assist with the planning and execution. Once your committee is formed, you can start checking relocation tasks off your list.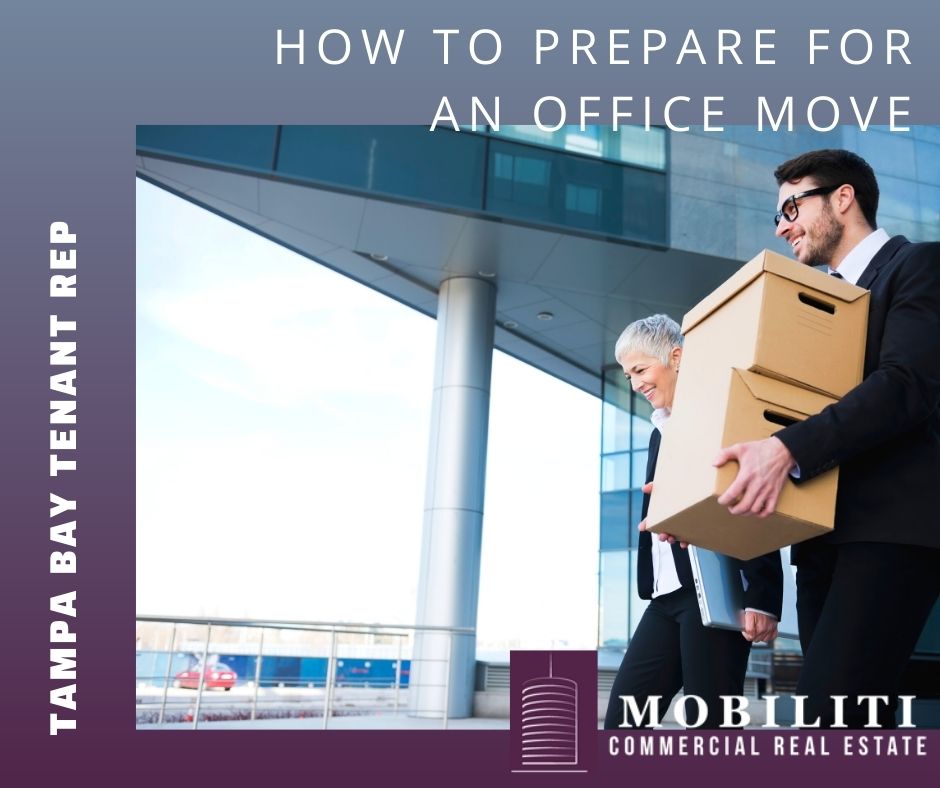 Ensuring that you hire the right moving company is critical. Your moving company will often be your most important initial contact with your new landlord, and it is important that the moving experience be a positive one for all parties involved. The following is a summary of some key points to consider with respect to the mover.
Selection of Mover.
Selecting the right mover is critical. A good way to start the process is to ask management at your current building and management at your new building for a list of recommendations. Investigate each of the movers carefully. It is also important to know the specialty of your mover. If you are a high-tech company, you do not want to hire a mover that specializes in moving low tech companies.  Make sure the mover walks the project and gives a detailed list of all materials. Get a detailed bid in writing.
Work with the Mover Prior to the Move.
Make sure your mover has reserved freight elevators on the appropriate time and date. Also, make sure your mover is aware of any floor and corridor protection requirements your new landlord may have in place. Continue to keep your new landlord up to date with any date and time changes. Make sure your mover is aware of the following:
Parking regulations outside the building.
Freight elevator hours.
Size of freight cars.
Configuration of the building (will they have to change elevators).
Special building rules and regulations.
Related: How to Get the Office Build-Out You Bargained For
Pre-Move Checklist.
Confirm that your company's insurance covers the move.
Arrange and set up new phone and Internet accounts.
File a change of address with USPS.
Run an inventory of existing furniture and dispose of anything you do not need.
Order new furniture as necessary.
Leverage the pre-move internal committee to help employees prepare for and execute the necessary steps for the move. This includes preparing boxes with labels, cleaning up and purging old files, and distributing any new keys or access cards for the new facility.
Order stationery with the new address.
Make sure all permits and licenses are in place.
Send out change of address notices to clients, vendors and personnel.
Conduct team meetings with IT staff, design construction specialists
and the mover.
Change locks and passcodes at the new location and distribute keys to staff.
Confirm AC will be on prior to move.
Moving Day Checklist
Ensure computer equipment, phones, furniture and boxes are unplugged and ready to be moved.
Plan an emergency contact list to keep all parties in the loop and accessible on moving day.
Thoroughly clean out your old space as required by your existing contract.
With a little preparation and planning, your move to a new commercial real estate property can go smoothly.
At Mobiliti CRE we focus 100% on representing tenants with office relocations, expansions, contractions, and subleases throughout Tampa Bay and the entire West Coast of Florida.  We also assist businesses that are looking to purchase office, medical office, industrial, and retail space.  Reach out to us for assistance with all of your commercial real estate needs at (813)-300-2227 or email us at pam@mobiliticre.com
More Tenant Related Information