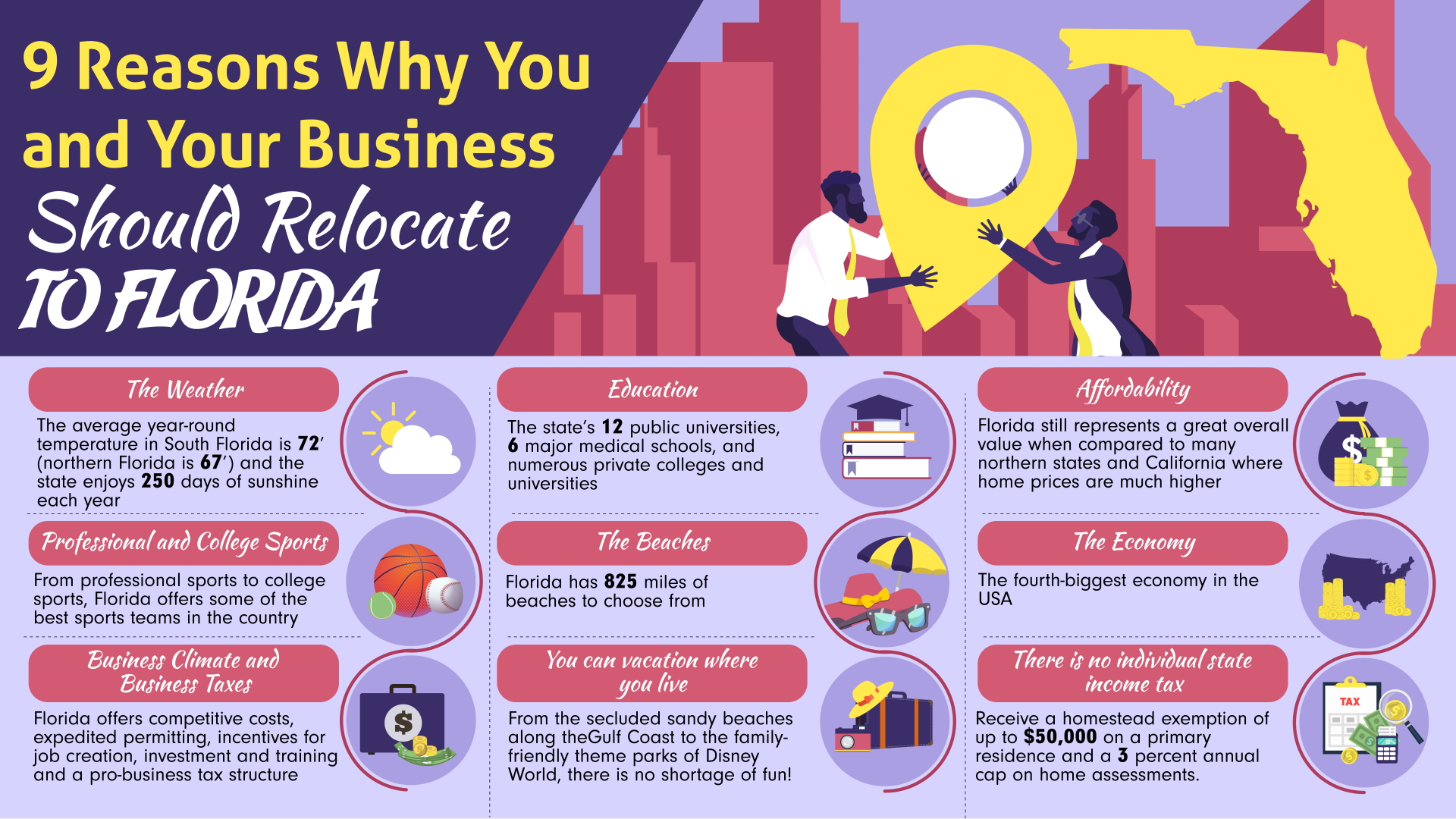 Nearly one thousand people are relocating to Florida each day. In a study on migration, HireAHelper,  a digital marketplace for small moving companies found that in 22 states, Florida is the top destination for those who decide to move out.  The report finds that Florida is the top destination for people from states like North and South Dakota, Wyoming, Maine, Tennessee, Connecticut, Michigan, North Carolina, New Jersey, and Indiana.  Since the pandemic began, migration has increased from highly taxed areas like New York, Chicago, Boston and California.  So why are all of these people moving to Florida and in many instances relocating their businesses?  Here are 9 reasons both personal and professional why you should relocate to Florida.
The Weather. When you think of Florida, you think of sunshine, beaches and great weather. The average year-round temperature in South Florida is 72' (northern Florida is 67') and the state enjoys 250 days of sunshine each year. If you love the outdoors, Florida is for you.  There are plenty of water sports such as kayaking, stand-up paddleboarding, swimming, diving and boating.  Golfing, tennis, biking, jogging, rollerblading and camping are all year-round sports in Florida.
There is no individual state income tax. Florida residents pay no state income or estate tax and receive a homestead exemption of up to $50,000 on a primary residence and a 3 percent annual cap on home assessments.
Affordability. The State of Florida has been experiencing a strong real estate market and many new housing developments are being built.  The strong demand has caused prices to steadily increase and the average Florida home sale price as of May 2020 is now $270,00. This represents an increase over 2019 and experts expect this trend to continue as long as the state's population continues to grow. However, Florida still represents a great overall value when compared to many northern states and California where home prices are much higher.
Professional and College Sports. From professional sports to college sports, Florida offers some of the best sports teams in the country. While most states have one or two professional football teams Florida has the Miami Dolphins, the Tampa Bay Buccaneers and the Jacksonville Jaguars.  Florida has two professional baseball teams, the Florida Marlins and the Tampa Bay Rays. Florida also offers two professional basketball teams the Miami Heat and the Orlando Magic.  Finally, Florida has two professional hockey teams the Florida Panthers and the Stanley Cup winning Tampa Bay Lightning. College's such as the University of Florida and Florida State University also offer their own teams for students and alum to rally around.
The Beaches. Florida has 825 miles of beaches to choose from.  They range from powdery smooth and white to hard-packed and dotted with seashells and other treasures. Florida beaches are consistently ranked among the best beaches in the world by international travel publications and on beach expert lists.  From Pensacola to Daytona Beach to Siesta Key to Miami Beach, each coastal oasis has its own vibe.
You can vacation where you live. If you live in Florida, a fantastic vacation is never more than a few hours' drive away.  The state's many beaches, theme parks and attractions mean there are hundreds of vacation options all close to home.  From the secluded sandy beaches along the Gulf Coast to the family-friendly theme parks of Disney World, there is no shortage of fun and exciting places to visit in your own state.
Business Climate and Business Taxes. Florida offers competitive costs, expedited permitting, incentives for job creation, investment and training and a pro-business tax structure.  Florida has no tax on the following:
corporate income tax on limited partnerships
corporate income tax on subchapter S-corporations
corporate franchise tax on capital stock
state-level property tax assessed
property tax on business inventories
property tax on goods-in-transit for up to 180 days
sales and use tax on goods manufactured or produced in Florida for export outside the state
sales tax on purchases of raw materials incorporated in a final product for resale, including non-reusable containers or packaging
sales/use tax on co-generation of electricity
Education The state's 12 public universities, 6 major medical schools, and numerous private colleges and universities work closely with the business community to build programs that reflect the needs of Florida's industries. Florida's colleges and universities are among the nation's top performers of research & development (R&D) and commercialization of technologies.
The Economy. Florida is one of the United States' economic powerhouses.  It's the third biggest state in the country by population and has the fourth-biggest economy. In fact, its GDP is larger than all but 16 countries.  Florida's economy is extremely diverse.  It is known for its tourism and agriculture but also has a significant and growing presence in industry clusters, such as Cleantech, Life Sciences, Infotech, Aviation/Aerospace, Logistics & Distribution, Defense/Homeland Security, Financial/Professional Services, Technology and Manufacturing.
Additional: Moving Trends and Statistics in the US During COVID-19
If all of this doesn't make you want to pack up and move, check out this video featuring my adopted home City of St Petersburg, Florida care of the St. Petersburg Economic Development Corporation.
  At Mobiliti CRE we focus 100% on representing tenants with office relocations, expansions, contractions, and subleases throughout Tampa Bay and the entire West Coast of Florida.  We also assist businesses that are looking to purchase office, medical office, industrial, and retail space.  Reach out to us for assistance with all of your Tampa Bay commercial real estate needs at (813)-300-2227 or email us at pam@mobiliticre.com
More Tenant Related Information