Are You an Attractive Commercial Real Estate Tenant? All commercial real estate landlords have certain criteria that they typically look for in a good tenant.  Of those criteria, the most important is the tenant's financial strength.  Landlords want to be assured that the tenant won't go out of business before the lease expires.
In addition to financial considerations, landlords also look at the tenant's industry.   Certain types of tenants like banks, large law firms, and major accounting firms, tend to attract a mix of other good tenants.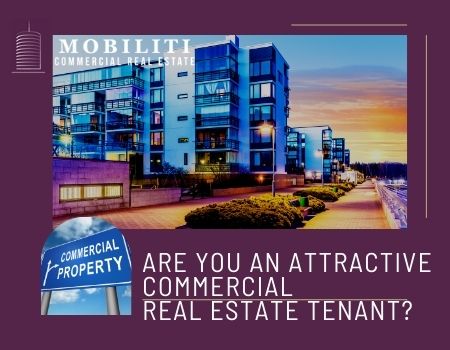 A third item that landlords look at is the size of the tenant.  While large tenants are generally attractive, a landlord may not want one tenant to take most of the building, especially if that tenant is in an industry considered to be risky.  The loss of one dominant tenant would severely impact the landlord's bottom line.
In addition to the criteria listed above, landlords also look at the following:
Responsiveness
Occupancy Date
Parking demands
Rental history (positive references from current or previous landlords are helpful)
Will requested tenant improvements be reusable by a subsequent tenant?
Flexibility with respect to location within the building
Potential for growth
Before you begin looking at properties, it is very important that you have your financial information in order.  Most landlords will want to see at a minimum the most recent two years of tax returns and a profit and loss statement for the current year.  By getting your financials in order and thinking like a landlord, you can be an attractive commercial real estate tenant.
At Mobiliti CRE we focus 100% on representing tenants with site selection, office relocations, expansions, contractions, and subleases throughout Tampa Bay and the entire West Coast of Florida.  We also assist businesses that are looking to purchase office, medical office, industrial, and retail space.  Reach out to us for assistance with all of your commercial real estate needs at (813)-300-2227 or email us at pam@mobiliticre.com
[ninja_form id=1]
More Tenant Related Information